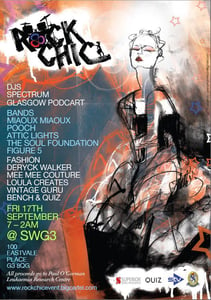 £

10.00
Organized by a very special lady, this glamorous, cutting edge fashion and music fusion at SWG3 Warehouse in Glasgow (www.swg3.tv) will be happening on Friday 17th September 2010.
All details to be revealed very soon however with some of the most exciting names in Scotland taking part this is something you don't want to miss.
All proceeds from this event are going to the wonderful Paul O'Gorman Leukaemia Research Centre, you can read more about the fantastic work Tessa Holyoake and her team do here: http://www.gla.ac.uk/services/givingtoglasgow/paulogormanleukaemiaresearchcentre/ .